About No Boundaries Marketing Group
No Boundaries Marketing Group was founded on the basis of simplifying the marketing and advertising world for small to medium-sized businesses. Through our experience, we recognize that having a comprehensive marketing and advertising strategy, not a cookie cutter solution, is important to the overall success of a business. Identifying and capitalizing on the attributes that make each small to medium-sized business unique helps to provide our clients with a personalized brand strategy, therefore our mission is to understand your business and develop a unique marketing strategy to achieve the desired goals.
The Last Marketing Team
You'll Ever Hire…
As true marketing professionals, web developers, social media influencers, and brand strategists, we pride ourselves in providing our clients a complete, end-to-end marketing and advertising team! Our goal is to be the designated Marketing Department for our clients! As a boutique agency, we like to say, we may look small, but we have the same tools, resources, and reach that the big agencies have! With over 50+ years of combined experience, we have worked with businesses large and small, Fortune 1000's to startups! With that said, find ourselves uniquely positioned to serve the small business community. As a family owned and operated business, we know all too well the struggles of owning a business. With so many things to juggle in your day, it can be difficult to get everything done! With most business owners sacrificing long hours in the office, or weekends away from the family… We're here take a little off their plate! As a trusted marketing partner for hundreds of local businesses, we are committed to giving 100% to our clients each and every day!
Meet The Team! Well,
At Least A Few Of Them!
Joleen
Chief Inspiration Officer
Kalynn
Director of First Impressions
Calli
Lead Project Manager
Where pets outnumber people…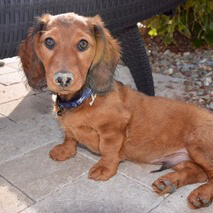 Arlo
Product Durability Analyst