Are you looking to leverage mobile
technology for your business?
Mobile device usage has skyrocket in the last decade. In fact, in 2020, mobile commerce sales hit $2.92 trillion opening up the flood gate of businesses looking to develop a mobile app to claim their piece of the pie. But before you jump in to developing an app for your business, we need to first understand how people are utilizing their smart phones and why a consumer should download your app.
Out of the nearly 4.8 billion mobile devices used worldwide, roughly 70% of them are smartphones. According to eMarketer (2019), in the United States, consumers spend an average of 2 hours and 55 minutes on their smartphones each and every day. This statistic is important because consumers now spend more time on their phones than watching television. Perhaps a more important fact is that an estimated 69% of internet users prefer to research products and services using their phones versus shopping in-store. Lastly, the golden nugget you've been waiting for, according to Datareportal (2020), two out of every three internet users say they use shopping apps on their mobile devices.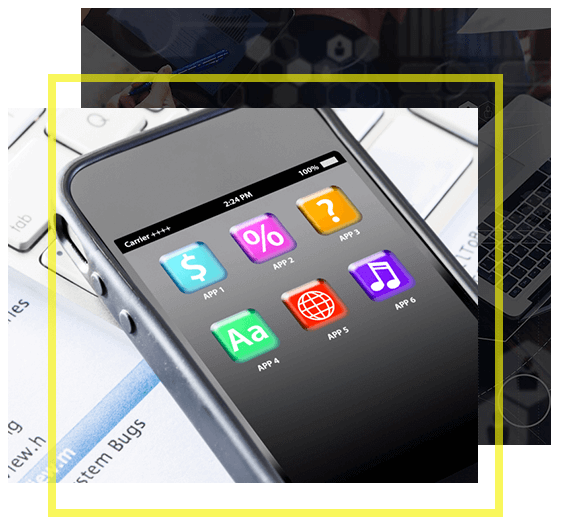 With that said, there is no doubt, mobile apps can be very lucrative, but what do you put on it? Do you just sell things? How do we get users to download the app? How does it all work? Mobile apps provide four key benefits for your business. They boost customer loyalty, they provide an intimate customer service platform, provide a platform for automation and data collection, and they provide an exclusive marketing channel for your products and services. But what goes into a mobile app? That is a great question and one that doesn't have a one-size-fits-all answer. On one hand, you could develop an app to feature your products and services, along with how-to videos and more. You could develop an educational app that focuses on teaching your clients a thing or two. Or maybe you want something more social where your clients can connect in a private digital space… Whatever your fancy, we can help!
Our app development process starts with a strategy meeting. In our first meeting, we will discuss your perception or understanding of mobile apps, what you would like to accomplish, your target demographic, and more. From there, we will schedule a follow up meeting to discuss possible options and a rough outline that showcases how you and your clients might benefit/utilize from a mobile app. From there, we will refine things over a series of meetings until we have a solid game plan that we can move to the development phase. Depending on the complexity of the app, the development process normally takes 90 to 180 days.
Let's chat about
your project today!
If you are interested in having a mobile app developed for your business, give us a call today. We can set up the first meeting so we can sit down and hear your ideas. From there, we can walk you through our process, help answer some of your questions, and more! Give our office a call today at (602) 377-7773!
What Types Of Apps Are
We Capable Of Building?
Well, simply put, anything your mind can dream up! We have built and consulted on a variety of app projects, it really comes down to the specific needs and requirements of the client. Some common types of apps include:
Business apps
These apps are designed to help businesses streamline their operations, improve productivity, and enhance customer engagement. Examples include project management apps, CRM apps, and employee communication apps.
E-commerce apps
These apps enable businesses to sell their products or services online. Examples include online marketplaces, online shopping apps, and food delivery apps.
Social networking apps
These apps allow users to connect and interact with each other. Examples include Facebook, Instagram, and Twitter.
Gaming apps
These apps are designed for entertainment purposes and can be played on mobile devices. Examples include Angry Birds, Candy Crush, and Pokémon Go.
Educational apps
These apps are designed to help users learn new skills or information. Examples include language learning apps, math apps, and educational games.
Health and fitness apps
These apps help users track their health and fitness goals. Examples include workout tracking apps, calorie counters, and meditation apps.
How much does an
app cost to build?
The cost of building an app can vary widely depending on several factors, including the complexity of the app, the platform(s) it is built for, the features and functionalities required, the development team's location and experience level, and the time and resources needed to build the app.
Here are some general estimates for the cost of building an app:
Basic apps
Simple apps that have limited features and functionalities, such as a basic calculator or a flashlight app, can cost between $5,000 to $10,000 to develop.
Database-driven apps
Apps that require database integration, such as a news app or a weather app, can cost between $10,000 to $50,000.
Enterprise apps
Apps designed for large enterprises with complex systems and features, such as CRM or ERP systems, can cost anywhere between $50,000 to $500,000 or more, depending on the complexity of the app.
Gaming apps
Gaming apps can be quite expensive to develop, depending on the level of graphics and interactivity required. Simple games can cost between $10,000 to $50,000, while more complex games can cost up to $1 million or more.
It's important to note that these are just general estimates, and the actual cost of developing an app can vary widely based on the specific needs and requirements of the project. It's best to work with an experienced app development team to get a more accurate estimate of the cost of your app.
When should a business consider
building an app?
This is a great question, and one we get quite frequently! A business should consider building an app if it can provide value to its customers and enhance its overall business objectives. Apps create captive audiences which means if you can get a person to sign up or download your app, then you more easily market to this! They are amazing tools for generating repeat and referral business! Here are a few factors to consider when deciding whether to build an app:
Customer needs:
If a business has identified a customer need that can be addressed through an app, such as easier access to products or services, a better customer experience, or improved communication, building an app can be a valuable investment.
Competitive advantage:
If a business wants to differentiate itself from its competitors or stay ahead of the curve in its industry, building an app can be a way to provide added value and stand out.
Brand building:
An app can be a powerful tool for building a brand and creating customer loyalty. By offering unique and valuable features that are not available through other channels, an app can help businesses create a more engaged and loyal customer base.
Business objectives:
If building an app can help a business achieve its overall objectives, such as increasing sales, improving customer retention, or enhancing productivity, it can be a worthwhile investment.
It's important to note that building an app can be a significant investment in terms of time, money, and resources, so businesses should carefully consider the potential benefits and drawbacks before making a decision. A thorough analysis of customer needs, competitive landscape, and business objectives can help businesses determine whether building an app is the right choice for you.