TikTok Ads for
Small Business
Digital marketing is a rapidly expanding and changing business. With digital culture and the different platforms people use changing so fast, it is also true that the platforms that digital marketing needs to use change just as fast. And right now, one of the new emerging platforms that is taking the world by storm is TikTok. Tik Tok is a platform where people create video content to share on the platform. It is a social media program, there is a large social aspect to the video sharing. It is also extremely popular, so the videos and other things on the platform are seen by a very large number of people. All of these things combine to make it a perfect platform to market on. It is for these reasons that No Boundaries Marketing Group as decided to begin offering TikTok ads as a package to our clients.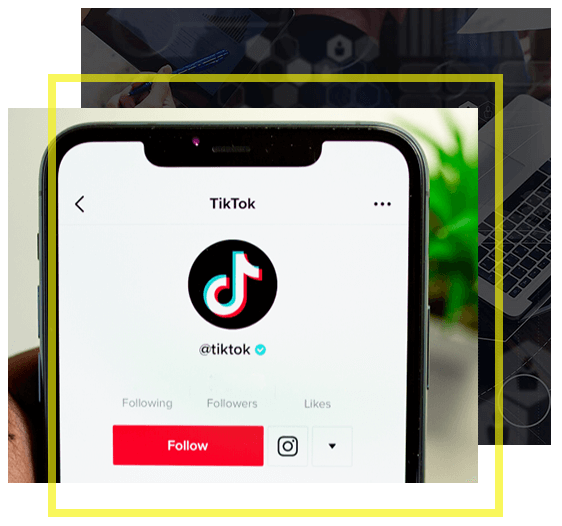 There are many aspects of TikTok that make it an attractive place to market. The short video format encourages a lot of scrolling through content, so there is a high likelihood that someone will see your specific advertisement. In addition, its current popularity will make sure that your advertisements have a lot of viewership. At No Boundaries Marketing Group, we offer several different packages for TikTok ads so that we can create a tailor-made approach that perfectly fits your specific needs for your company. We will be offering four different plans for TikTok ads ranging from basic to premium. Having multiple plans will allow you to find one that works best for you and for your price range. The basic plan will offer only some basic services such as the ad campaign itself, while more services are added as you get closer and closer to the premium plan. The premium plan is the best we offer. It allows you to have access to our full range of TikTok advertisement services to take you ads to the next level.
At No Boundaries Marketing Group, our knowledge of digital marketing is second to none, which is why we are always ahead of current media trends. We make sure to keep up with the most modern marketing tactics in order to make sure that you get the best marketing services possible. The variety of plans that we offer allow us to give you exactly what you want in terms pricing and in terms of services that you want. We will use all of our marketing expertise to make sure that you get the best advertising campaign possible. When it comes to marketing in the modern age, No Boundaries Marketing Group is on top, and we will help you to take your marketing to the next level.
Starter
Number of Campaign – 1

Number of Client Provided Videos – 2/month

Ad Spend – Upto $1000/month

Campaign Type (Options) – Website Traffic, Lead Generation

A/B testing

Text & Image Ads Optimization

Bid Management

Reporting – Weekly, Monthly
Basic
Number of Campaign – 3

Number of Client Provided Videos – 4/month

Ad Spend – Upto $2000/month

Campaign Type (Options) – Boost Post, Website Traffic, Page Like Campaign, Website Re-Targeting, Targeting – Custom Audience, Conversion Ad, Lead Ad campaign

A/B testing

Text & Image Ads Optimization

Bid Management

Reporting – Weekly, Monthly
Standard
Number of Campaign – 5

Number of Client Provided Videos – 10/month

Ad Spend – Upto $4000/month

Campaign Type (Options) – Boost Post, Website Traffic, Page Like Campaign, Website Re-Targeting, Targeting – Custom Audience, Conversion Ad, Lead Ad campaign

A/B testing

Text & Image Ads Optimization

Bid Management

Reporting – Weekly, Monthly
Premium
Number of Campaign – 8

Number of Client Provided Videos – 15/month

Ad Spend – Upto $10000/month

Campaign Type (Options) – Boost Post, Website Traffic, Page Like Campaign, Website Re-Targeting, Targeting – Custom Audience, Conversion Ad, Lead Ad campaign,

Product Catalog

App Install

A/B testing

Text & Image Ads Optimization, Bid Management

Reporting – Weekly, Monthly