Basic Website
Development
In today's highly digitized world, having a website for your business is crucial to stay relevant and competitive. A website is the digital storefront of your business that serves as the first point of contact for potential customers. It allows you to showcase your products or services, provide important information, and engage with your target audience. Without a website, your business may seem outdated and untrustworthy, which can negatively impact your brand image and credibility.
Statistics support the importance of having a website in the current market. According to a survey by Clutch, 46% of small businesses in the US still do not have a website. However, 97% of consumers search online for products or services before making a purchase. Additionally, 63% of consumers primarily use a company's website to find and engage with businesses. These statistics indicate that not having a website can significantly limit your business's reach and potential growth. Therefore, having a website is not only important but also necessary for businesses to succeed in the current market.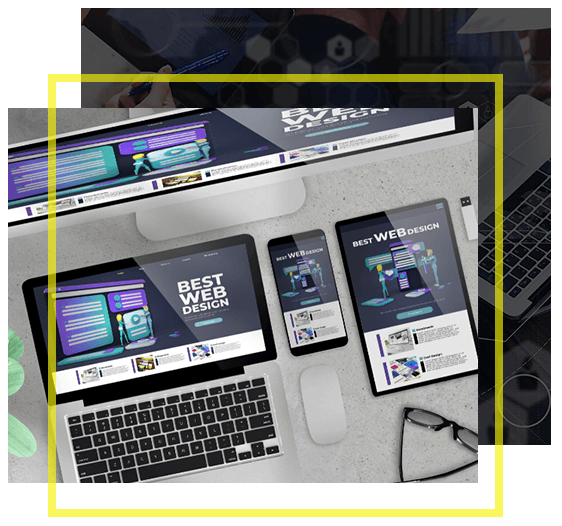 Curious what a website might cost you?
You might be surprised at how affordable a website can be… Fill out this form and we'll get back with you ASAP!
Semi-Custom Website

vs. Template Website
A semi-custom website and a template site differ in terms of the level of customization they offer. A template website is pre-designed and pre-built with a specific layout, color scheme, and content structure. These templates can be purchased through various website builders, allowing businesses to customize their website with their own content and branding. However, the design and functionality of the website are always limited by the template's pre-existing framework, and there may be little room for customization beyond basic changes. This is where things get a little tricky!
On the other hand, a semi-custom website offers greater flexibility and customization options. While a pre-existing template may be used as a starting point, a semi-custom website allows for more extensive design changes and customization of functionality. This can include customizing the layout, adding specific features or functionality, and integrating unique branding elements.
What Makes NBMG
Different
At No Boundaries Marketing Group, we pride ourselves in having a team of experienced junior and senior web developers, designers, and support specialists who can create everything from a basic service based website to a full custom website, tailored to the specific needs of your business. Our team is skilled in developing websites that are not only visually appealing but also user-friendly, optimized for search engines, and designed to convert visitors into customers. We also provide ongoing support and maintenance to ensure that the website is always up-to-date and functioning properly, freeing up time for you to focus on other aspects of their business.
As a small business, we get it! Our team is committed to providing exceptional customer service and ensuring that our clients are completely satisfied with the end result. We start by taking the time to understand our clients' unique needs and goals and work closely with them throughout the design and development process. We also offer structured pricing and don't charge any large up-front fees for our website services. We have a simple monthly fee structure that provides our clients options to fit within your budget, making our services accessible to businesses of all sizes!
What Is Included With Our
Basic Web Design Services
Our basic semi-custom web design services are packed with features! For your monthly fee, we include 5 – 10 page semi-custom design based on your requirements, we will provide a basic setup of licensed theme and plugins (Gravity form, Smart slider and more), professional stock photos and vectors (from 123rf.com) if needed, SEO-friendly design; mobile-friendly pages; Google Analytics and Google Search Console integration, website hosting, weekly and monthly secure website backups, WordPress theme and plugin updates, monthly website performance audit, hourly site uptime monitoring, monthly website design and content updates (up to 2 hours), broken links check and fixing, and technical support from a professional support team by phone, email, and chat. Our monthly fee does not include content development.
We're only a phone call away from getting this party started! With that said, we would encourage a little preparation so we can hit the ground running! We have a very detailed onboarding process and here are some of the questions we are going to ask!
When do you expect to have this website launched? Please note, the normal build time is 6 – 8 weeks depending on the complexity of the design.

If we are redesigning your current site, what do you like or not like about the site?

Please provide 3 sample sites that you like. It would be helpful if you could describe in detail what you like about them so we can discuss what we can and can't do as a part of the build.

If we are redesigning your current site, have you ever done SEO on it?

What is the goal of the site? Lead Generation, Informational, Social, or Product Sales?

What would really WOW you about the site?

Do you have any specific fonts or colors that we should use?

Do you have any images that we should use or avoid?

As a part of our website development package, we will typically write 2 – 3 pages of content. If your website requires additional content, you have two choices. You can write the content, or we can write the content. Please note, if you need us to write the content, the cost is $99 per page which includes the basic on-site optimizations.

What pages would you like on the website? Here are some examples:

Home

About Us

Our Staff

Locations

Services / Menu

Commitment to Quality

Warranty

Get a Quote

FAQ

Testimonials / Reviews

Our Products

Videos

Resources

Tools

Calendar / Events

Schedule Appointment

Our Process / Setting Expectations

Blog / Newsletter

Careers

Our Culture

Partnership Program

How To

Customer Support

Contact Us

Would you like a form on your site? If so, what fields need to be present? What email address should form submissions go to?

Do we need to integrate the form(s) into a CRM? If so, please provide the login details and integration instructions.

Do you have any membership organizations that you are a part of or charities you support?

Do you have any awards or accolades that you would like to feature?

If we are redesigning your current site, do we need to consolidate or get rid of any of the current pages?